New York Giants 24, Philadelphia Eagles 17
New York Giants 24, Philadelphia Eagles 17
Workout Date:
01/20/2023
QIC:
Hedgehog
PAX:
1st Base (AOQ), O'Douls, Skimmer (R), Judge Judy, Killington, Crabs, Chucky (FNG)
The Thang:
In a crushing defeat this Saturday, the New York Giants upset the Philadelphia Eagles in a come from behind victory at Lincoln Financial Field. After leading through the first three quarters of the game, the Eagles squandered a 17-3 lead in the fourth quarter through a series of turnovers, foolish penalties, and questionable coaching decisions. Local authorities lamented that they had greased their poles for nothing when asked for comment.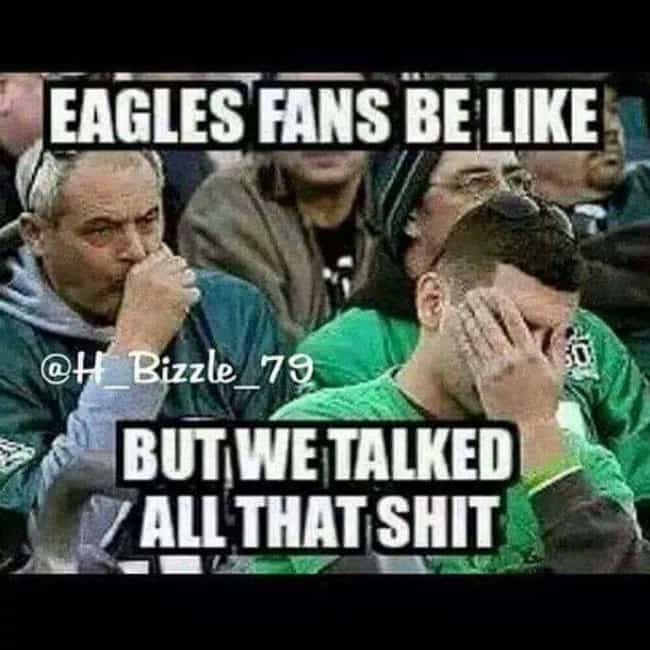 Conditions: Mid 50s, turning foggy during the course of the beatdown, with just a sliver of a moon.
COP
15 Hairy Rockettes, IC
15 Side Straddle Hops, IC
15 Tempo Squats, IC
15 Willie Mays Hayes
15 Thru The Tunnel
14 LBAC FWD, IC
Hedgehog asked for a recitation of the five core principals of an F3 Workout and was answered without hesitation.
15 LBAC RVS, IC
15 Overhead Claps
15 Seal Claps
The THANG
Mosey to the Cross
40 Step Ups
30 Rocky Balboas
20 Step Ups
10 Rocky Balboas
Mosey to the Big Lots, lining up on the first parking lot line
PAX choice:
2 Merkins per line, Bear Crawl between
or
4 Squats per line, Lunge Walk between
Mosey to the Block Pile to collect coupons and returned to the back lot and partnered up for some AMRAP DORA, 3 Rounds of each Set
First Set
1st PAX does block dips while second PAX moseys to the second light, then switches to Merkins while they mosey back. PAX swap duties until each has completed three rounds.
Second Set
Same as the first, but with top half curls on the way down and full curls on the way back
Third Set
This time the exercises were Overhead Presses and Squats with or without blocks.
Returned Coupons to Block Pile and Circled Up for
MARY (Pax Choice)
15 LBCs (O'Douls)
15 Flutter Kicks (1st Base)
15 Freddie Mercuries (Judge Judy
10 Outlaws
Count-O-Rama
Name-O-Rama
Naming of FNG
As the FNGs favorite team is the Raiders, he was christened as Chucky in reference to former coach John Gruden