Timeshare on a Friday??
Timeshare on a Friday??
Workout Date:
10/22/2021
QIC:
Weasel
PAX:
Handstand (Respect), Viagra (Respect), Malpractice (3x Respect), Cubby, Weasel (WeaselShaker)
The Thang:
So… Cubby has been taking his expansion Q role to heart and working aimlessly on the north end to try out new AO's, bring in more pax, build excitement within the region etc….  he gets on the group chat last night asking if anyone would like to Q the new guys.  I had naturally assumed that this would be at the new friday AO, so I volunteered to get over and see the new area.  Well… Cubby had worked it with all the new Pax to bring them down to Timeshare so they can see the AO and check it out.  So i guess were working out at Time share on a Friday… Who would have thought??
I pull into the AO about 5am and get out for a quick walk with Duncan (My Chocolate Lab),  10 Mins to show time… no Pax…  5 Mins til.. Cubby pulls in.  4 Mins til Viagra pulls in..  But still no new pax.  With about 2 mins til go time, Malpractice pulls in.  30s to showtime Handstand pulls in. Ok Disclaimer given, lets go!!
Warm Up:
TTT x 10 IC, Good Mornings x 10 IC, Temp Squat x 10 IC, IW's x 15 IC, Hill Billies x 15 IC, SSS x 15 IC, Peter Parkers x 15 IC
Line up…  Toy Soldier Down, Slow Lunge (stretch) back.
The Thang:
I had intentions of touring the entire AO, but we modified due to "speed"  We'll talk about that later.  I introduced the "Burpee Ball" (Idea Stolen Acquired from The Oyster- Thanks Bob the Builder!)  Pax mosey with ball in hand, if ball is dropped penalty is 3 burpees.  Ball can not be held longer than 3 seconds or same penalty is also applied.  We did this for the .5 mile trot up to Dirty Dons..
Partner up for AMRAP.  Partner A does excercize while Partner B runs down to stop sign and back
Round 1- AMRAP DIPS
Round 2- AMRAP SQUATS
Round 3- AMRAP BIG BOY's
After the 3rd Round we worked our way back to the AO utilzing the "Burpee Ball" This time penaly was 10 Heels to Heaven.
Once back we knocked out some Big Boys and Sprints.   Pax lined up, 5 Big Boys and sprint down parking lot and back  Rinse and Repeat for 3 Rounds.
MARY- Pax Choice
Time.
That was it.
Announcements- Dads Camp is this weekend at Myrtle Beach State Park.   Freed To Bleed NEXT WEEK!!!
Prayer Requests-  I read "Hungry Mans" Obituary.
OBITUARY
Jeremy Adams
MARCH 6, 1999 – OCTOBER 14, 2021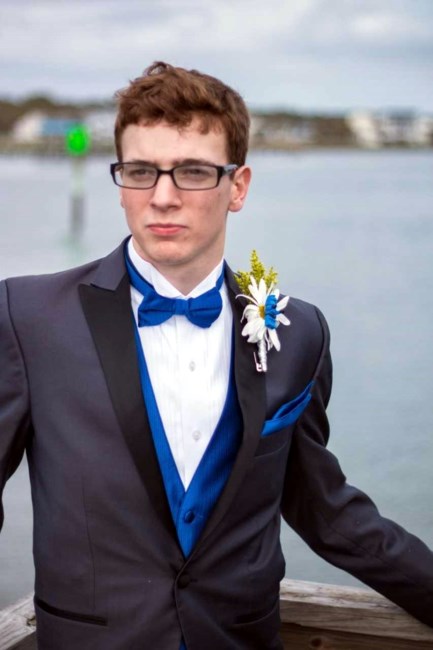 Jeremy Lee Adams , age 22 of Supply, NC, went to be with the Lord on Thursday, October 14, 2021.
Jeremy attended Coastal Church of Supply and was a youth leader. He worked as a chef at Morrisons and he loved to cook for family and friends. He spent his time with family playing board games and making jokes. Jeremy always made others laugh and enjoyed playing with his nieces and nephews who adored him. Jeremy loved with his whole heart and was an amazing man of God.
Jeremy was preceded in death by his parents Joseph Lee Adams and Darlene Phelps Adams; his aunt, Deana Phelps; grandfather, Gary Dean Phelps.
Jeremy is survived by his wife, Trinity Martin Adams; daughter, Everlee Adams, due April 2022; adopted parents, Bruce and Cyndy Sullivan; grandmothers, Tamara Merrell Phelps of Mocksville and Peggy Adams of Wallburg; mother and father in-laws, Tina and Nick Martin; aunt, Susan Gregory of King NC; sisters, Niki Kimrey, Vickery Jackson, Sharyn Coster, and Kelly Rajaniemi ; brother-in-laws, Jason Kimrey, Jacob Jackson, Ryan Coster, Heath Rajanimei, Peyton Martin and Eli Martin; nephews and nieces, Lindsay, Taylor, Noah, Jake, Levi, Brayden, Rebekah, Lily, Riley, Nehemiah, Adalyn, and Olivia.
Services will be held at New Beginnings Community Church Saturday, October 23,2021 at four o'clock in the afternoon.
Memorial contributions may be made to Duke Cancer Institute or Lower Cape Fear Hospice. Condolences and contributions may be made to Trinity Adams at http://ffnd.co/9Bjw9G.
Fond memories and expressions of sympathy may be shared at www.whitefuneralservicesupply.com for the Adams family.
We prayed it out and rolled out!
Thanks for the Honor of Leading you Boys in the Gloom!
Weasel