Ugly Sweaters Really Make a Workout look…uh…weird???
Ugly Sweaters Really Make a Workout look…uh…weird???
Workout Date:
12/16/2017
QIC:
OneCall and Lombardi
PAX:
Papa Smurf (Double Respect), Bubbles, Flop, Bling, Mousepad, Whittle, High Interest, Franklin, Bluegrass, Handy Manny, Hoser, Podcast, Studebaker, Rousey, Sunshine, Cheesy Biscuit, Bobsled, Crankbait, Billboard, Peterbilt, Geno, Flash, Flyover, Boxcar, Weedeater, Varsity, OneCall, Lombardi
The Thang:
Conditions
33, Cold, but most of us had sweaters and were warm!  Except Bluegrass, sporting the #ReindeerBoob exposed to the chill!!!  And soggy, wet, tights.  #NoSecrets
This is really one of the most fun workouts ever!  Our annual ugly sweater convergence is always a blast and guys pull out all the stops, oftentimes having the M's get involved in some creativity and custom jobs.  Papa Smurf was totally tinseled out for example.  Others, like Peterbilt and Varsity, hit Kohls and Walmart and get some doozies!!  Bling borrowed one of (yes I have multiple ugly Christmas sweaters for some reason) YHC's excellent choices with a blatantly male unicorn (I didn't know there were male unicorns since they are magical creatures that are only found in magical forests by princesses; but I digress).  I could go and on describing the incredible choices, but a picture speaks a thousand words, so, here you go: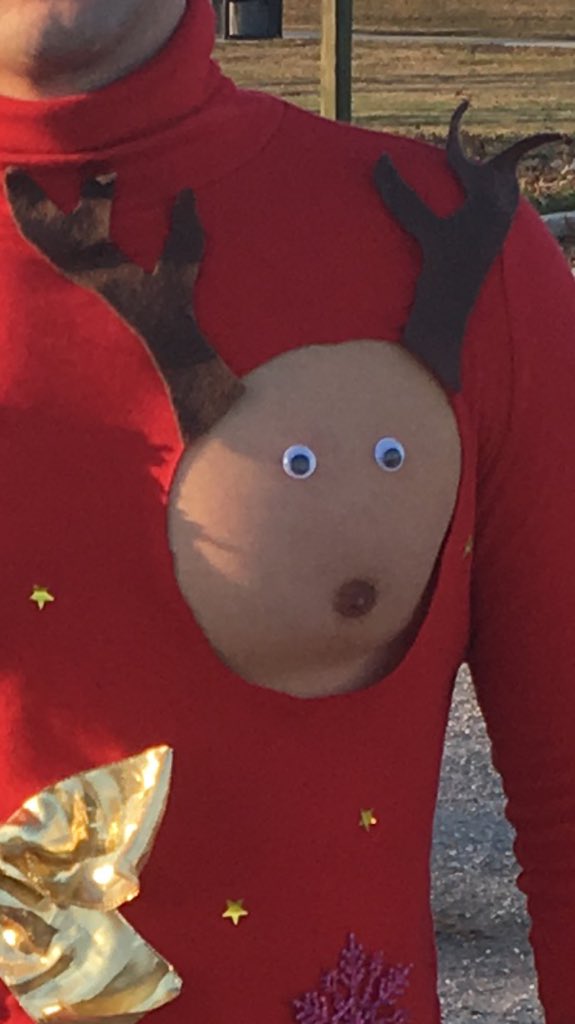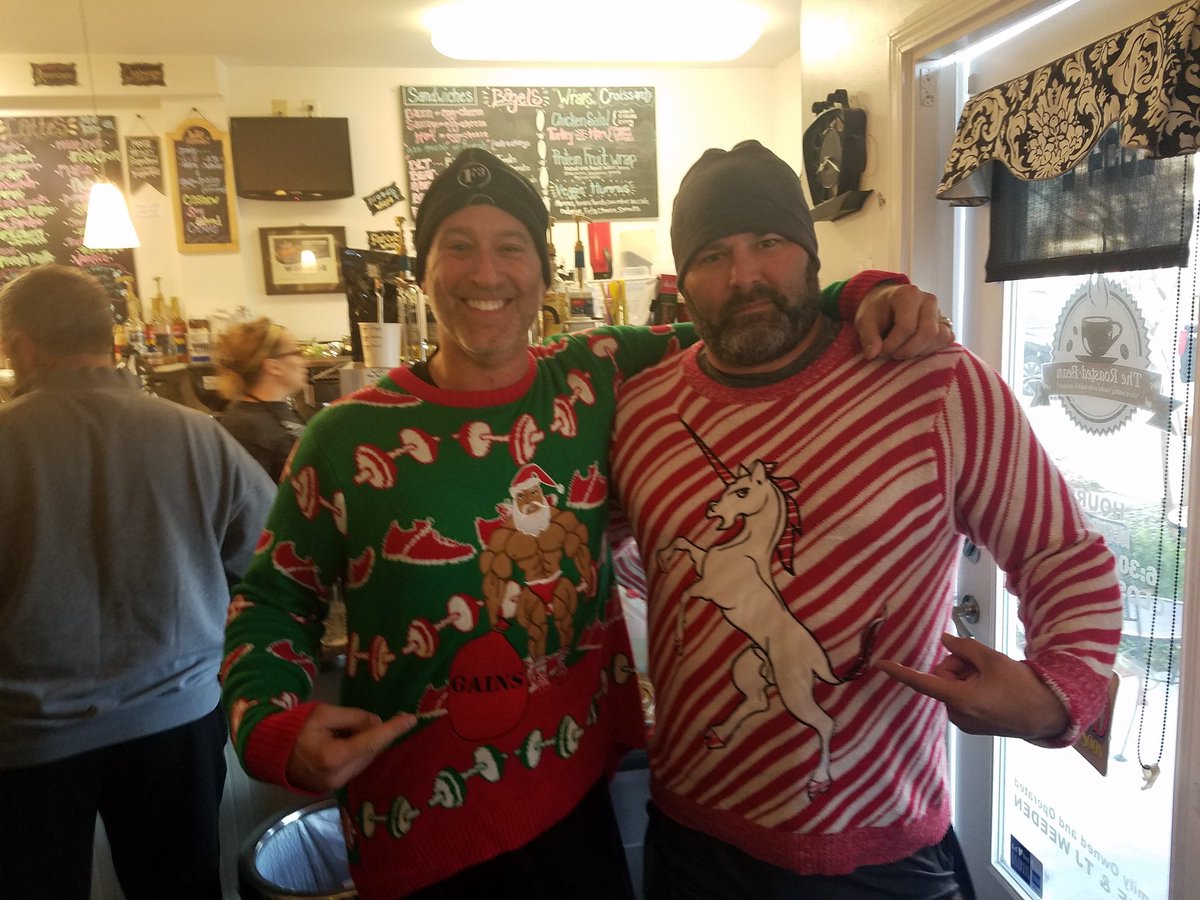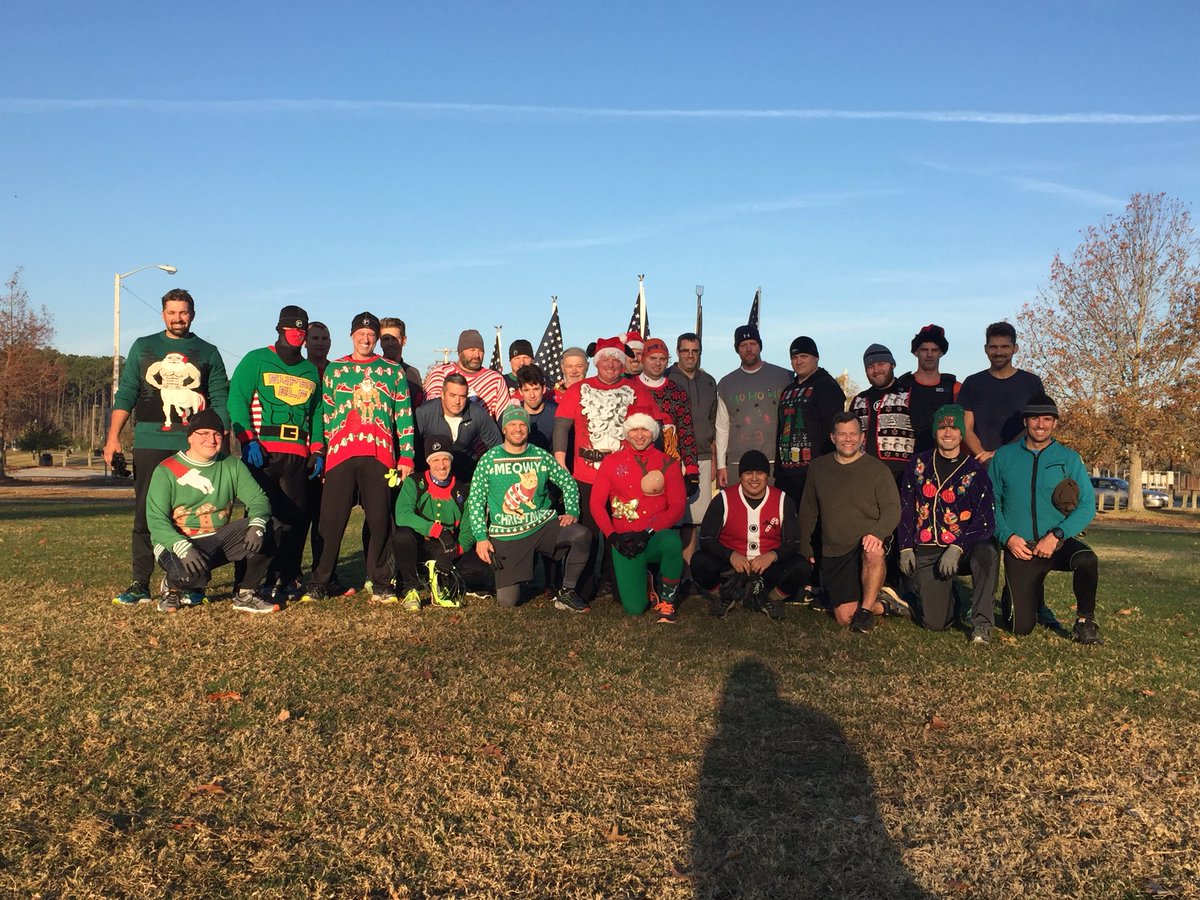 Alright, back to what happened, and I want to add that is was awesome to have 6 of our 7 AO's represented!!!  We missed the NMB crew, but having local guys meet other local guys from other AO's really defines the Brotherhood that is F3!!!  It's amazing when guys see the larger effect!!!
So the 1 minute warning was given and we headed to the field and got circled up for a disclaimer, that included a special provision about staring at Bluegrass often!
COP
SSH x 26 IC
IW x 25 IC
LBC x 25 IC
Tempo Squat x 25 IC
Diamond Merkins x 25 OYO
Jingle Balls x 25 OYO – yes this was made up, but it is hard on shoulders, legs and core if you did it right.  At this time, Mousepad joined us and YHC got to hollar at him to "Jiggle Your Balls!"
It was then time for THE THANG, which was a trip with Santa as he traveled around the world.  Apparently, we have some geography scholars in the group who didn't think the order of countries truly followed the globe and was not the most efficient use of Santa or the reindeer's time.  But you know what, MAGIC.  So Santa can do what he wants!!!
TURKEY: 12 Turkish get ups – OYO  Geno refused and stood there.  Great job.
JAPAN: 25 Sumo squats – OYO
BRAZIL: 25 Brazilian crunches – IC
RUSSIA: 25 Russian twists – IC
MOROCCO: 25 Moroccan Nightclubs with HIP THRUST – IC (some M's clearly suffer disappointment)
SWITZERLAND: 25 Swiss alps ski jumps – OYO
FRANCE: 25 Paris Eiffel tower Calf Step-ups – OYO
KENYA: run a lap – we had a very large difference in fitness levels and the picking up the 6 here was great to see!! NO MAN LEFT BEHIND!!
NEPAL: 25 Mt Everest mountain climbers – IC
HOLLAND: 25 Windmills – IC
CANADA: Polar bear crawl – 1/2 way around the huge circle.  #Crowdpleaser
ENGLAND: 25 Under the London Bridge Merkins – OYO (#TheseSuck)
CHINA: 25 Great wall Jump Squats – OYO
EGYPT: Great Pyramid push-ups

Perform 10 Push-Ups; Rest 10 seconds
Perform nine Push-Ups; Rest nine seconds
Repeat this pattern all the way to the bottom of the pyramid (one Push-Up)

SOUTH AFRICA: 20 Africa Leopard – broad jumps – jump 5x in, turn around and 5 back
PUERTO RICO – J-Los – YHC had Studebaker call these out since they are his favorite!  20 IC I think
Finishing up in AMERICA: Merkins – 25 OYO and then 25 Wide Arm OYO
When this was done, it was time for Santa to get back to the North Pole, so we moseyed to Valor Park for Lombardi to take over.  Along the way, one of MB's finest officers pulled a truck that dang near ran some of our PAX over as he tried to scoot through the break in the men.  Glad everyone was safe!
Lombardi beat us down with this:
Box jump the fountain or
Step Ups 25x (A leg)
Step Ups 25x (B leg)
Elevated Merkins 25x
Derkins 25x
Dips 25x
Mosey the long way around the park to get to the menorah!
Abbreviated DORA – Partner up
Merkins 50x
BBSU 100x
Squats 150x
LBCs 200x
Mosey back to our flags!!
Time Called!
COT
Count-O-Rama – 28, 6 AO's represented!!!
Name-O-Rama
Prayer requests for EVERYONE!
Prayer requests unspokenBOM by Lombardi, who always knocks this out of the park!!
Moleskin
– Getting this done in 24 hours!!!  But not the day of as usual unfortunately, since I was in the tattoo chair for many many hours yesterday.  Thanks to Flop and Cheesy Biscuit for stopping in and keeping me company and my mind off the pain!
– An honor to co-Q this with Lombardi.  Great fun, hard work, picking up the 6, great sweaters, great coffeeteria.  This is what F3 is all about!!!!!
Announcements
– Be sure to check out our regional website. All local information is on that!
– Operation Christmas Child!!!  WEDNESDAY!!!  Peterbilt and Crankbait on Q for this and have set up local delivery.  CHANGE OF ORIGINAL DATE – NOW – WEDNESDAY, DECEMBER 20 at 4:30 PM!  See here.
– If you haven't taken the poll I circulated and posted in #mumblechatter, please do!!  There is also one for the M's.  This will help us prepare to go into 2018 STRONG and with PURPOSE!!!  If you need these polls and aren't in slack, feel free to email me – taborcitylawyer@yahoo.com – and I will send them.
– Handy Manny and Crankbait will be co-Q'ing as our #3rdF #HIM starting in 2018!!  There is a google form here to fill out to get them data to figure out what will work best!
– Don't forget our newest official sub-AO #WaveRucker on Wednesdays from 0430-0615 at #Warthog. 4 mile either pre or post ruck, with a 45 minute RUCK WOD.  Hoser is the AOQ of this!  Rousey loved his 1st foray into this!!
Aye!
OneCall